Motorsport is moving closer to starting up again, and one of the new motorsport disciplines to be taking place in 2020 is the Straightliners Ultimate British Classic Bike Championship.
As the name suggests, it's all about top speed, although in a change to the Bonneville-style format of very long open spaces, this championship will also cover shorter distances such as the quarter mile.
As part of the Ultimate Street Bike-Speed Championship (aka USB-SC) it will be a series of events run at both top speed venues and quarter-mile venues with the emphasis on speed and speed only – no times over the measured distances will count.
While the main championship will cover modern machinery (the classes being Suzuki, Kawasaki, Yamaha, Honda and Other), the UBCBC will be run in the same way but for up-to-1970 British classics only, with the classes being Triumph, Norton, BSA, Velocette, Enfield and Other.
There is still the option for changes to the classes, as there may a requirement to add a singles class, for instance.
The way it will work is at the top-speed events riders will get speeds over the half mile and mile, and their best half-mile and mile speeds will become their results for that event – the speeds will be added together to give them their points total. So basically it's points for mph!
Aside from this giving road riders a chance at pushing their machinery in a safe environment, there are a lot of ex-sprint and record-chasing classics parked up in garages and workshops throughout the country, and this championship will give them a chance to stretch their legs in true competition, and not just in a demonstration capacity.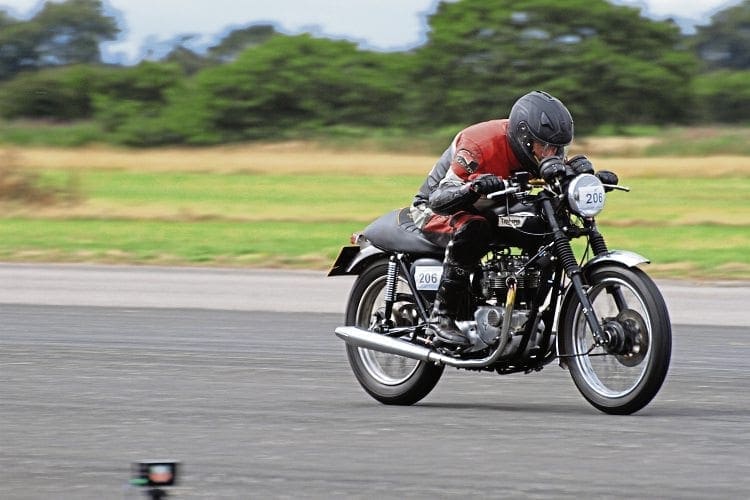 This has to be better than starting a raucous open-piped classic in your garage with the only result being an annoyed neighbour…
Subject to the Covid-19 restrictions being lifted, the venues and events currently scheduled (with the potential of more being added) will be:-
• Llanbedr, Gwynedd, Wales, June 27-28, Quarter Mile and Half Mile event.
• East Kirkby, Lincolnshire, August 1-2, Quarters only.
• Elvington, Yorkshire, August 15-16, Half Mile and Mile.
• Elvington, Yorkshire, September 26-27, Half Mile and Mile.
• Melbourne, Yorkshire, October 10-11, Eighth Mile only.
At the end of the year there will be a champion for each make, and an overall champion scoring the most points.
More details can be found on the website at www.straightliners.events
Read more News and Features at www.oldbikemart.co.uk and in the June 2020 issue of Old Bike Mart – on sale now!