Les Orme tells how, many years after the event, he managed to return the favour to a Norton Navigator that had rescued him from a breakdown crisis in France.
My motorcycling days started in 1959, at the age of 15, when friends Keith Pitcher, Pete Evans and I bought an old non-running rigid rear-end BSA for £5. I can't remember the capacity, but it must have been a 250cc or 350cc single.
Our intention had been to take it apart for some maintenance experience, but Bill Pitcher, who had an important position at Norton in Bracebridge Street, just happened to be Keith's father, and soon had it up and running.
The three of us learned to ride it in the vehicle access right-of-way at the back of Bill's house, but the neighbours soon complained about the noise.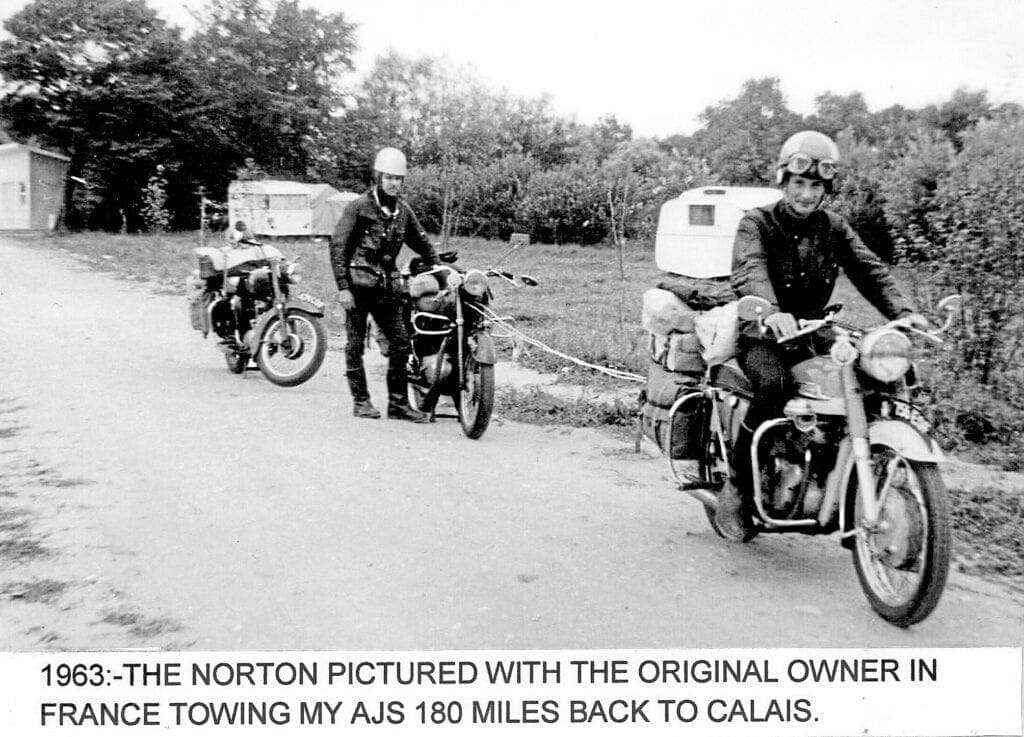 I bought my first road bike – a 175cc James Cavalier – when I was 16, and my friends bought a James Captain and a Lambretta scooter, but after about 18 months we wanted bigger machines, so I bought a 250cc AJS Model 14, Keith a 250cc BSA C15 and Pete a 350cc Norton Navigator.
In 1963 the three of us went on a three-week touring holiday of France and Belgium and bought a three-man tent complete with flysheet, and a small pup tent in which to store our equipment, which included basic cooking utensils, and inflatable Lilos for our beds. I still have the simple meths cooking ring and aluminium fold-together pan set that we used.
We fitted our bikes with rear carriers and panniers, and tested the tent and equipment by riding to Llangollen for a weekend, riding home to Birmingham in torrential rain.
After taking the ferry from Dover to Calais, we made our way to Ostend and Blankenburgh, and after three days in Belgium we set off on the long trip to Paris.
During the journey my AJS developed an engine rumble, and by the time we found a campsite in the Paris suburbs the developing engine noise was causing some concern.
After a week in Paris, during which we gave the bikes a rest by using the Metro to see the sights, we planned to head along the Brittany coast, staying at Trouville and Deauville for a few days before making our way to Calais for the return ferry crossing.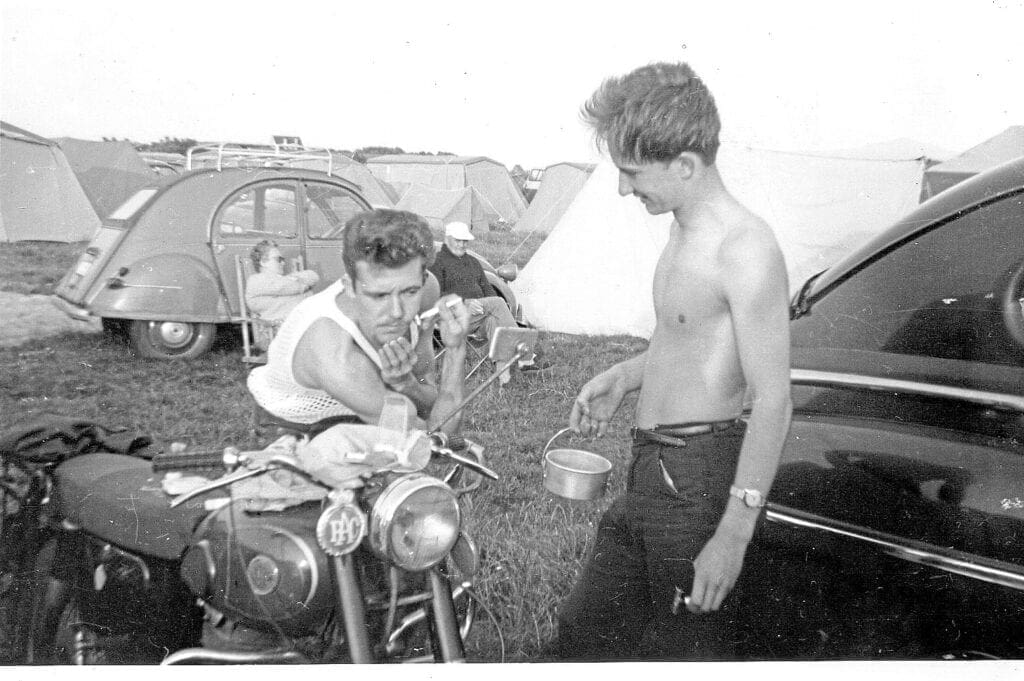 Not far into the journey, though, the AJS engine developed a significant knocking noise that gradually worsened until there was literally a bang/knock each time the piston went up and down.
It remained all the way from Paris to the coast as I tried to nurse the engine to Trouville, where we set up camp.
During the four days we stayed there I didn't use the AJS, and rode pillion on the Norton Navigator instead.
After packing up and leaving, I was the last in line with my engine banging away, and after about 10 miles it finally cried enough and seized.
I pulled in the clutch and rolled to a stop as the BSA and Norton disappeared into the distance, but my friends returned as soon as they realised I wasn't following.
By this time my engine had cooled, but kicking it over was to no avail as it was seized solid.
We'd all joined the RAC in case of a breakdown abroad, but after we managed to contact them from a local cafe (not easy as we spoke no French) the advice was to take the bike to the nearest garage and leave it there for repair.
However, I didn't think that leaving my bike in France was a good idea, so we dreamed up a better one – towing it to Calais and, after the crossing, leaving it in Dover for repair.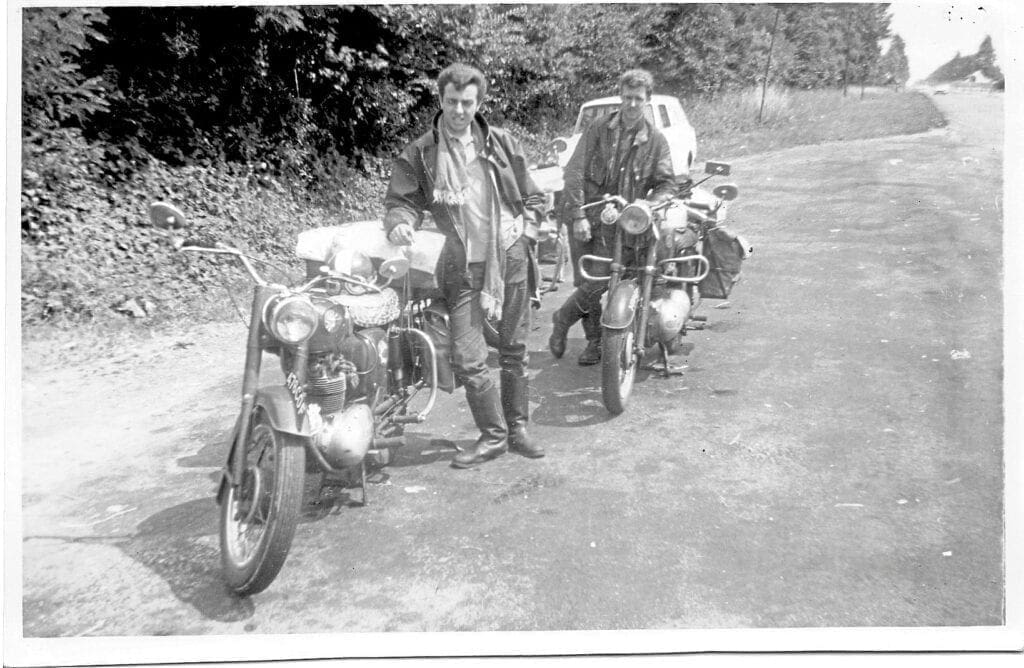 Keith and Pete set off to buy some rope, and when they returned we decided the Navigator would make the best workhorse for towing my Ajay the 180 miles to Calais.
We tied the rope around my headstock and then the Norton's rear crash bars and set off at a very steady speed.
At a road junction in a small town, the rope went slack and embarrassingly became wrapped around my front wheel. A few miles further on, as we went downhill at 40mph, the rope went slack again, but as it straightened out with Pete pulling forward, it came up underneath my front mudguard, resulting in my handlebars rocking strongly from side to side.
Although I was shouting as loudly as possible, Pete couldn't hear me because of the type of helmet he was wearing.
I was losing control when suddenly the rope slackened again, and this time when it went taut it missed the mudguard and we were back to normal. Pete remained blissfully unaware of what had happened throughout.
A bit further into the journey the same thing happened, but this time I couldn't hold the handlebars and we came to grief in front of a group of French workmen who rushed over to help us. Fortunately we weren't hurt and the bikes suffered only minor damage.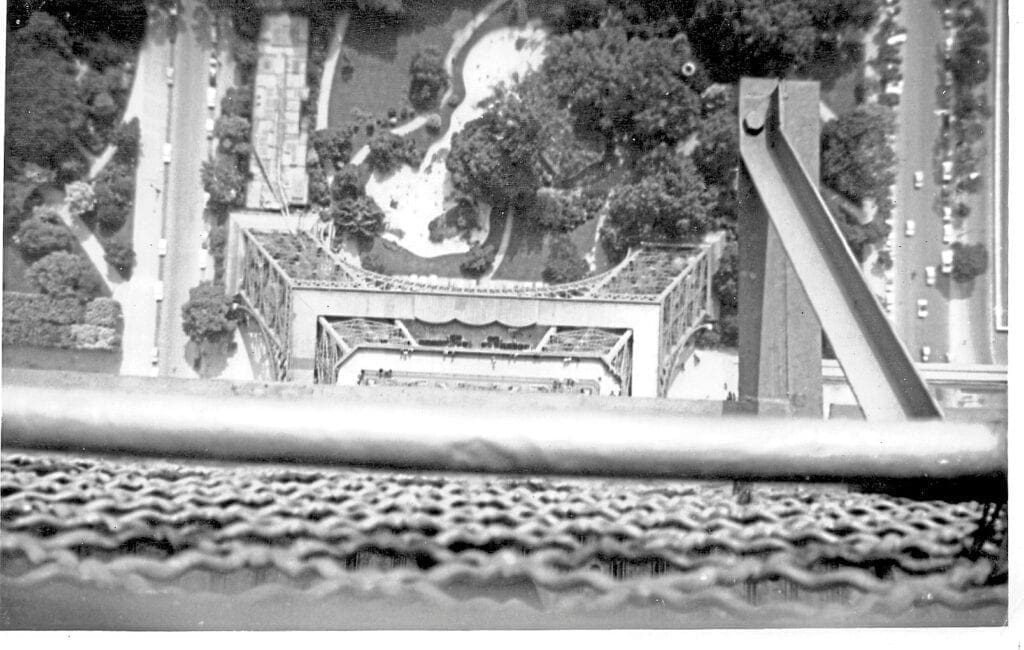 I tried holding the rope rather than attaching it to my headstock, but I soon had to let go as my arm was being pulled out of its socket.
Finally we decided to re-attach the rope to the headstock, but from then on Pete would give a slowing-down hand signal whenever he wanted to reduce speed or stop, giving me the chance to apply my brakes and keep the rope taut, and this got us back to Calais without further incident.
We located the repair garage in Dover and made the necessary arrangements to leave my bike. We lightened the load on the Navigator to make room for me to ride pillion, leaving what we could on my bike and adding a bit more to the C15.
Two weeks after returning home, one of the Norton's pistons collapsed – what a good thing it hadn't happened in France!
When my AJS was duly repaired, I travelled down to Dover by train with my girlfriend, and we rode back at 25mph to run in the new big end.
It took us hours and hours, and didn't help when the incorrectly fitted battery lead came loose and blew all the bulbs just as it was getting dark a few miles out of Dover.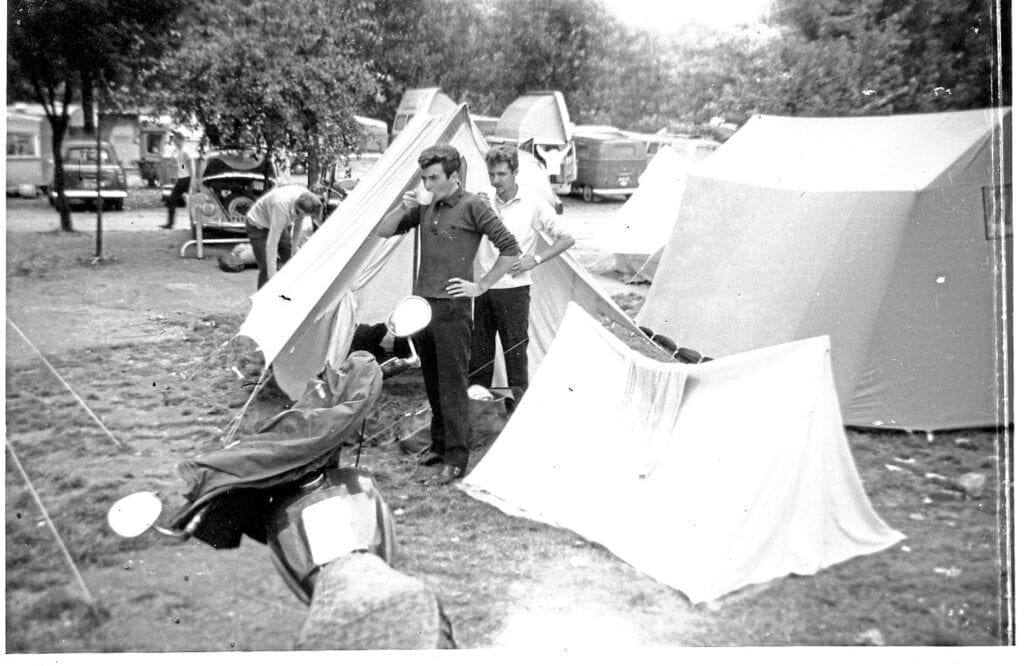 It probably wouldn't happen today, but finding ourselves stranded at a petrol station that didn't stock the right kind of bulbs, a complete stranger offered to take us in his car to another service station to see if that one stocked them.
It didn't, and he took us to five petrol stations before we found the correct bulbs, returning us to the one where we'd left the bike, and wouldn't accept any payment at all. We finally arrived home in the early hours.
Continued next month.
Read more News and Features at www.oldbikemart.co.uk and in the latest issue of Old Bike Mart – on sale now!