Following the sad news of the passing of Ivan Mauger at the age of 78 on April 16, I'd like to mention my wife Hilary's moment with him in 1973.
For my sins, I was secretary of the Manchester '17' Motor Cycle Club in the late 1960s and early 70s, and arranged for the club to sponsor the second-half match race one Saturday evening by way of a membership promotion for the '17'.
Needless to say, Ivan won and Hilary presented him with a cheque for £50, such was the price of fame in those days. Mind you, the riders were making only £10 a point then, so if you achieved a paid maximum of 15 points, you got £150 for your trouble, so £50 was £50!
As was customary for the winner, Ivan offered Hilary a "quick squirt" around the cinders on the back of his 500 Jawa.
Envious? You bet I was! Sorry I don't have any pictures of that occasion, but the accompanying one of the two of us was taken at the National Speedway Stadium in Manchester in March 2016.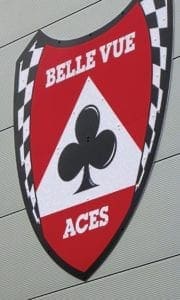 Finally, my interest was aroused by the letter from Pete Bramhall of Stockport on page 17 of OBM (April) about the Manchester Eagles Motor Club.
The Eagles were the 'rival' club in Manchester to the '17', but all in good heart. My father (sadly no longer with us) was a founder member of the Eagles just after the Second World War, and I
have lots of anecdotal memories of them which I'm sure Pete Bramhall and his pals would find
of interest.
Keith T Rhodes,
Bexhill
Read more Letters, Opinion, News and Features in the June 2018 issue of OBM – on sale now!