Some considerable time ago, Tim Britton delved into a 3TA Triumph engine that had been lying around the place for years… and following a casual comment from editor Pete Kelly recently, Tim has kindly agreed to pick up where he left off. Photos by Fiona Watson.
Some readers might recall seeing a few of the accompanying pictures before, but in order to set the scene again we thought a little overview of the project – which now has the rather grand title of 'Project 90' – might be the most appropriate way to reintroduce the feature.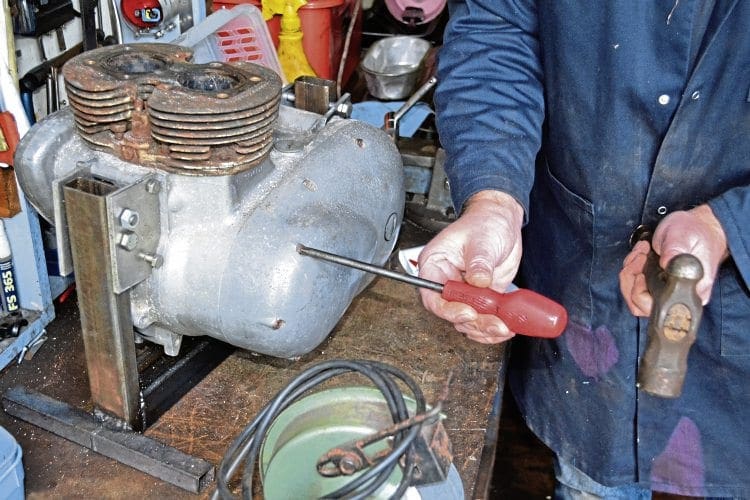 We've all got bits and pieces of bikes picked up over the years, and they're tucked away in boxes or shoved under benches or any amount of other storage places. Some come under the heading of 'valuable spares' while other bits are kept because none of us likes throwing things away.
In the latter category I have a box of broken, bent and twisted Triumph parts which could never be used for anything other than a paperweight or to serve as a reminder when I should do maintenance, but it's the former category that's of interest to us here.
Normally I'm the bloke in the queue behind the lad who gets the bargain, but this one time I happened to be in the right place
at the right time and was offered a 3TA engine fort not a lot of money.
Not that I was particularly looking for an engine, but I did have a 3TA frame and sub-frame, some fork yokes and a couple of pairs of
BSA forks, plus a Triumph QD rear hub spare.
So, all of a sudden there was potential to build something from the bits… except that engine went onto the shelf and was left for quite a long time while a Can-Am enduro was built for Classic Dirt Bike magazine.
Article continues below...
Advert
Read more in January's issue of OBM
---
Advert

Enjoy more Old Bike Mart reading in the monthly paper. Click here to subscribe.
---