Old Bike Mart offers the UK's largest selection of classic motorcycle classifieds. It features the latest news, reports from the racetrack, part and tool reviews and 'how to' guides. Newly discovered historic machines are revealed in all their unrestored glory and there's a nostalgic look back through the annals of motorcycling history. There are also dealer and workshop profiles where the experts behind some of the UK's finest restorations give a behind-the-scenes insight into how the magic happens. Readers' rides are examined, buyers' guides show you what to look for and there are hundreds of ads to browse.
ISSUE 411 OUT NOW!
Welcome to Old Bike Mart, the subscription-only newspaper with the UK's largest selection of classic motorcycle classified ads.
This month's OBM, as always is the case, features the latest news, reports from the racetrack, part and tool reviews and 'how to' guides. Newly discovered historic machines are revealed in all their unrestored glory and there's a nostalgic look back through the annals of motorcycling history.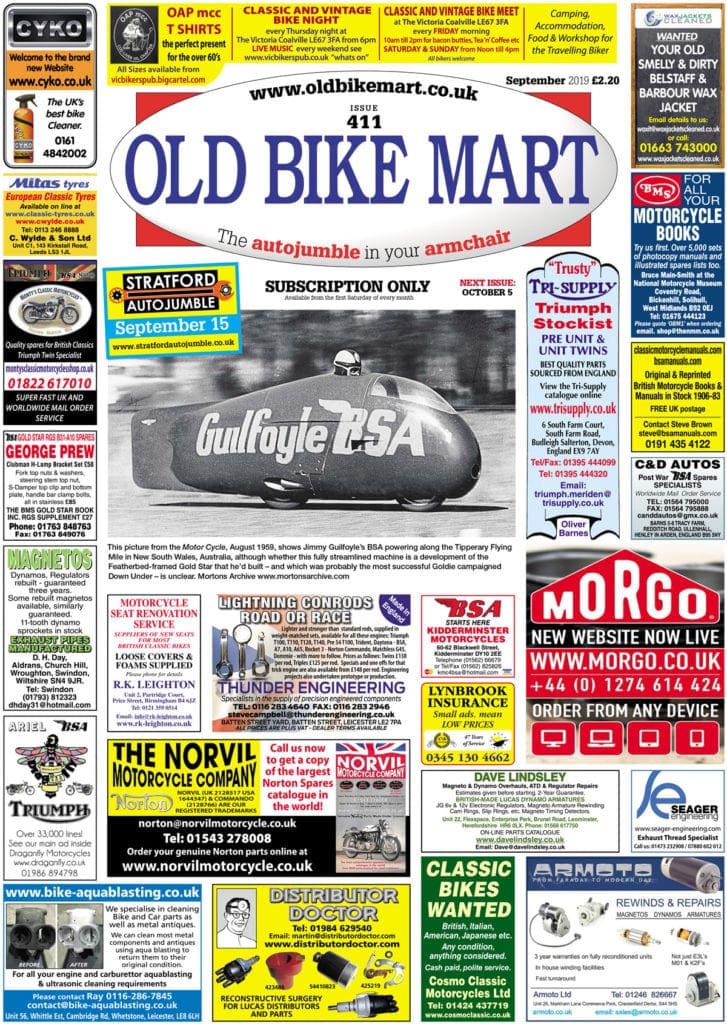 Here's a taste of what to expect in issue 411…
BOXING CLEVER | The sidecar has become more of a leisure item in recent years although, as Mick Payne knows, there are still plenty of enthusiasts using them on a daily basis.
SUZUKI TM400 | Was Suzuki's big TM the final frontier? Steve Cooper goes where no man has gone before to reveal the truth.
NINE YEARS THAT ROCKED THE WORLD | Pete Kelly looks back over the first nine eventful years of the Isle of Man TT, from Honda's first 125cc foray on to the Clypse course in 1959, until Mike Hailwood's record-shattering TT victories in 1967.
PLUS | The UK's biggest selection of classic motorcycle classified ads! Discover some of our readers' tales, look back at some of the highlights from the greatest classic motorcycle shows, and make a date for upcoming events in your classic calendar!
Editor's Welcome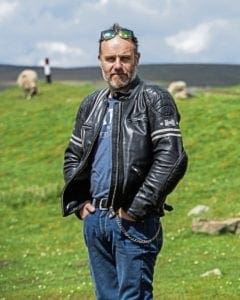 Now that the summer holiday season has drawn to a close and the kids have gone back to school, and the morning commute returns to the dreary nose-to-tail traffic so typical of modern life in Blighty, it seems that the busiest time of the year – as far as classic motorcycles and the riding thereof – is just about over.
As the evenings draw in, and the mornings have that misty mellow fruitfulness of which Keats was so fond, do we start to think of wrapping our steeds in dust sheets and blankets, and of stashing our riding gear away in cupboards or lofts? I damn well hope not!
After all, it's still only just the start of September, and there's the likelihood of a fair few clement days to come and, given that the recent years have resulted in something of an Indian Summer, then we can all look forward to having some decent riding days through not only this month, but a great deal of October too.
And with October comes the year's second helping of classic overdose with the Carole Nash Classic Motorcycle Mechanics Stafford Show, and the potential for a bit of pre-rebuild season retail therapy. Of course, an easy way of finding out exactly what it might be that you'd like to buy before you consign your bike to the winter's hibernation/disassembly/repair is to get out on your classic and ride it, thus confirming any issues that the machine may have to add to the list of endless tasks to write on the workshop whiteboard for the winter.
You have got a big whiteboard with tasks on, haven't you? If so, then like mine, it must seem that there's a little pixie that sneaks into the garage every Sunday night to add tasks on to the list that has been (marginally) shortened by the jobs that have been erased during a frantic – and far too short – weekend.
Although, rather than being insistent on finding any problems with your current classic bike, you may consider the autumn shows as the perfect time to peruse potential projects, maybe spending some time in the Stafford auction room (more on this next month) or scouring periodicals and websites for a bargain to snap up and tinker with over the long, dark winter.
But of course, even though the 'riding season' is drawing to a close, each and every weekend will still have a show, autojumble, meet or race event of some kind, all competing for the attendance of avid motorcycle fans.
So you'll never be short of something to do, and somewhere to go, on your bike, thus excusing you from actually spending any time in purposeful spannering in the garage. Although one thing has stuck me of late. It does seem as though modern society dictates that you have to have an exact idea of what you're going to do with your weekend – and that in order to go out on your bike then you have to have a specific destination in mind.
The success of so many transport cafes and bike-friendly roadside eateries and pubs owe much to this phenomenon, but whatever happened to just going out for a ride? Just meandering aimlessly down back lanes, of turning left then right, ad infinitum, until you come to a dead end, or the coast. But then they're pretty much the same thing I guess. Hmm, that's maybe a metaphor for life right there…
So, rather than metaphorically meandering down life's back lanes, maybe it's time for me to actually focus on getting some things done?
As there are 86,400 seconds given to every one of us, each and every day – and that's autumn and winter days, as well as longer summer ones – it probably makes some sense to use as many of them as possible for some kind of genuine purpose. As the second hand sweeps around with each tick and tock of the clock, that's time you can never get back. So it's probably a good idea to use what time you have wisely.
You'll not be doing something constructive with every single second – we do, after all, have to eat, sleep, converse and defecate (not necessarily in that order) – but I think the trick is to ensure that you do something of worth each and every day. Whether that be replacing a rusty fastener on your classic Brit, searching out the right kind of gearbox for your veteran sidevalve, or even just a couple of hours of practising your TIG welding or bronze brazing.
Or, for that matter, just taking your favourite old classic out for a brief ride around your local lanes. As long as it makes your life, and the life of the motorcycles that are around you, just a little bit better, then it makes that day worth living. Of course, you could just sit on your lardy backside and do nothing but moan, but that would be
your loss.
For me, I'm taking a leaf out of my own book, as I've bought a self-help book to teach me how to combat procrastination, and I'm going to read it tomorrow…