Old Bike Mart offers the UK's largest selection of classic motorcycle classifieds. It features the latest news, reports from the racetrack, part and tool reviews and 'how to' guides. Newly discovered historic machines are revealed in all their unrestored glory and there's a nostalgic look back through the annals of motorcycling history. There are also dealer and workshop profiles where the experts behind some of the UK's finest restorations give a behind-the-scenes insight into how the magic happens. Readers' rides are examined, buyers' guides show you what to look for and there are hundreds of ads to browse.
February Old Bike Mart out now!
Your February Old Bike Mart is now available! As it's by subscription only, here's how to make sure you get your copy:
https://www.classicmagazines.co.uk/subscription/OBM
The front page image for February features Alf Hagon, taken in 1968 when he was already a decade into his business. Alf is still making headlines, as his business this year celebrates its diamond anniversary, and he will join his family at the Classic Dirt Bike Show later this month.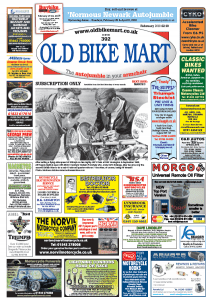 The grass track legend will be a guest of honour at the show and will be interviewed on stage each day by Jack Burnicle.
Inside the February issue of OBM is a full guide to this Telford spectacular and much more besides – lots of photos, numerous happy, funny and hairy moments from decades gone by, and plenty of news, views and forthcoming events to enjoy.
It's so easy to get your copy delivered to your door and get involved in the world of classic bikes and autojumble Aladdin's caves. Why not visit the Classic Magazines website now to find out more?