Old Bike Mart offers the UK's largest selection of classic motorcycle classifieds. It features the latest news, reports from the racetrack, part and tool reviews and 'how to' guides. Newly discovered historic machines are revealed in all their unrestored glory and there's a nostalgic look back through the annals of motorcycling history. There are also dealer and workshop profiles where the experts behind some of the UK's finest restorations give a behind-the-scenes insight into how the magic happens. Readers' rides are examined, buyers' guides show you what to look for and there are hundreds of ads to browse.
September 2016
Current issue: September 2016 – Next issue: October 2016 – On sale: October 1
Pete's Prattle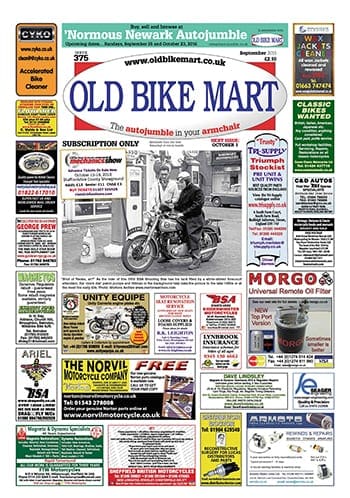 Two features in this issue – one about Terry Mitchell's special Ariel Arrows and the other our archive piece about the history of DMW motorcycles (especially the photos of some of the Villiers Starmaker-powered machines) – remind me of just how close Britain, once a pioneer in two-stroke motorcycle design, might have advanced before the arrival of Japanese two-strokes stopped play.
"These are the bikes that Ariel could, and should, have made," said Terry, as he showed us his potent Arrow racer and high-performance road bike that were built almost entirely using off-the-shelf components from the period.
And with its 250cc Starmaker engine, Villiers, a respected two-stroke manufacturer for many decades, really did make it affordable for many of us to up our game in road racing, scrambling and trials – I could even buy condensers for my Cotton Telstar from a Villiers agency in Manchester that stocked mostly lawnmowers!
How we drooled when the first photos of the Starmaker-powered Cotton Conquest sports roadster first appeared in the motorcycle press, and similarly, what a dream of a roadster the DMW Super Sports, listed in the firm's 1966 range shortly before its demise, and pictured on page 15, might have been!
Pitted against quarter-litre two-stroke imports such as Yamaha's YDS3 and Suzuki's Super Six, however, the Starmaker's limitations became ever more apparent.
A higher level of sophistication such as an 'Autolube'-type separate oiling system would have helped, of course, as would much better brakes (the ones on my Telstar were pathetic for a racing machine), but sadly the die was cast and from the British perspective, it became yet another story of what might
have been!
Keep safe,
Pete