Old Bike Mart offers the UK's largest selection of classic motorcycle classifieds. It features the latest news, reports from the racetrack, part and tool reviews and 'how to' guides. Newly discovered historic machines are revealed in all their unrestored glory and there's a nostalgic look back through the annals of motorcycling history. There are also dealer and workshop profiles where the experts behind some of the UK's finest restorations give a behind-the-scenes insight into how the magic happens. Readers' rides are examined, buyers' guides show you what to look for and there are hundreds of ads to browse.
August 2016
Current issue: August 2016 – Next issue: September 2016 – On sale: September 3
How I remember the Villiers-engined Dot ice cream trike whose regular appearances in our cobbled 'backs' in the early 1950s, announced by the energetic ringing of a handbell, meant a tuppenny cornet with lashings of 'raspberry' sprinkled from a vinegar bottle!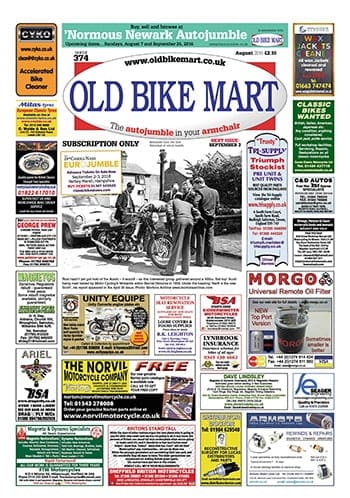 For many years, the old Dot factory in Manchester has stood defiantly while the world around it has changed beyond recognition, but an association with the city spanning over a century will end in September when Dot Motorcycles Ltd ceases trading from the 1912 premises in Ellesmere Street.
To mark the occasion, the Dot Motorcycle Club has organised a meeting and display of Dot machinery at the premises on Saturday, September 4, and more details can be found in our archive feature on pages 42-3.
Old Bike Mart is blessed with such a surfeit of editorial riches that sometimes it can be difficult fitting everything in between the blocks of advertising material.
In the past few months I've received such a large influx of interesting letters and features from our readers that inevitably there have been some delays in getting them to print – if only I could fit a quart into a pint pot! If you are one of them please be patient, for I'll
be easing the backlog over the next few issues.
In recent weeks we've been looking closely at OBM's run of pages trying to work out what might best go where, and I've been compiling some guidelines for editorial contributions. It would help immensely if you could keep the length of letters to a minimum, and to keep articles to no more than 1200 words so that we can use them in one go rather than having to extend them over several issues.
I thoroughly enjoyed taking two of my bikes to the Girder Fork & Classic Motorcycle Club's Big Bike Sunday at Skipton on June 26 and meeting so many of the record numbers
of exhibitors and visitors, but
sadly I was unable to attend the VMCC Taverners Section's Founder's Day at Stanford Hall, near Lutterworth, which this year boasted a brilliant themed Panther display among the many excellent club stands and activities.
With the help of the organising section, I aim to put together a worthy report and pictures in the next issue.
Keep safe,
Pete